While many things have changed over the years, there is no doubt that PokerStars helped shape up the online poker world as we know it today. (You can read more about its history in our PokerStars vs 888poker review; we won't be covering that today.)
However, ever since Amaya (later named The
Stars Group Inc.) took over the site, PS has been moving further and further
away from its original agenda. Nowadays, it's been moving in a direction that focused
more on recreational players, drifting away from "pure" poker.
It seemed that no one could pick up where
PokerStars has left off.
If such a giant decided that online poker as
the world knows it was no longer a viable option, who would dare defy the idea?
But then, almost out of nowhere came GGPoker, clearly looking to take over the
spot once held by PS.
GGPoker was initially launched in 2014 as a
primarily Asia-facing room, but over the last couple of years the site has been
making the play for the market – and they've been doing a great job at it so
far.
Its roster of professionals is starting to look
really serious. It even includes the former PokerStars number one ambassador,
Daniel Negreanu.
Negreanu, 'ElkY,' Bryn Kenney, and Fedor Holz
now make up the core of the GGPoker Team Pro, which clearly shows the site
means business. A small poker room with no ambition wouldn't enter partnerships
with such big names.
But when it comes to choosing between
PokerStars and GGPoker, which one should you pick? This PokerStars vs GGPoker review
will try to answer some of the most important questions to help you make that
decision. 
While both have their pros and cons, the best choice
will depend on what exactly it is that you're looking for.
Software: PokerStars vs GGPoker – PS Wins (Only Just)
For the longest time, PokerStars was the
absolute leader in terms of online poker software. For whatever reason, no
other room could come close to offering a client that was as good-looking and
player-friendly as that of PokerStars.
The sheer number of customization options at your disposal in the Stars client is quite impressive.
You can choose from different table layouts, select your preferred seat, set up auto-rebuy options for cash games and tournaments, and do much more to make the platform your own. (We go into more depth of the options in our PS vs 888 review.)
On top of all this, the client runs smoothly
with no serious glitches to hinder your experience.
But then came GGPoker.
Clearly, the brains behind this site know exactly
what it takes to attract players and build a loyal community.
They didn't repeat the mistakes of their predecessors by launching substandard software. They made sure GGPoker was almost as good as that of PokerStars.
The lobby of GGPoker is nicely organized to
offer an overview of main options, such as Hold'em and Omaha cash games,
scheduled tournaments, Spin & Gold games, Rush & Cash, etc.
Game filters aren't as detailed as the ones
offered by Stars, but they definitely do the trick.
Both sites also offer mobile apps for all types
of devices, but PokerStars outshines GG here. This isn't to say that GGPoker
mobile app isn't good, though.
It's quite decent – you'll be able to play your
sessions just fine – but it's not as advanced as the PokerStars mobile product.
Game Variety: PokerStars vs GGPoker – PS Wins
One thing that PokerStars has always done
better than the rest on is its games selection.
Stars has gone well beyond providing players with Texas Hold'em and Omaha games. These days, you can find almost anything you can think of over there, from Seven Card Stud and Razz, to Five Card Draw and Badugi – and anything in between.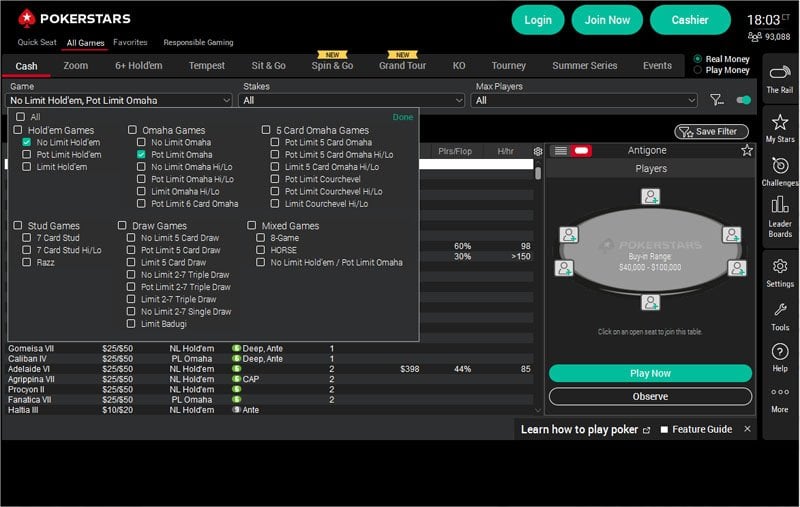 GGPoker isn't as colorful.
You'll find Texas Hold'em and Omaha, both as
cash games and tournaments. Beyond this, there is also Short Deck (6+ Hold'em)
tables.
So, if…